Mission Statement for Sonoma Mountain Healing Arts
1. To provide high quality classical acupuncture and related healing methods to address limiting conditions and support the health of those who seek my services.
2. To offer people nutritional and herbal means to solve on-going health related concerns by feeding the the body and mind.
3. To be part of the growth in demand for access to good food sources, a clean environment and a peaceful and just way of living.
Sydney Walker, L.Ac.
My History and Statement of Purpose
My wish is for everyone to have the opportunity to fully participate in the gift of life. My training helps me address blocks to the health and happiness of people who come to see me. I'm here to especially help those who have had a lot of stress in their lives. A difficult childhood or later trauma can keep us from being able to share our joy and our gifts with others and can cause us to react rather than respond to life. This can cause illness over time if not resolved.
In my study and practice I have gone deep and wide having started this work early in my life. It is a pleasure to pass on healing work from traditions that have been so helpful to me. To further meet the challenges of today's environment, I pursued training in whole food nutrition and techniques to streamline priorities, earning certificates in Applied Clinical Nutrition and Morphogenic Field Technique and Nutritional Response testing.
I love to teach those who come to work with me. My ability to sense energy and tend the Spirit has gotten stronger with practice and I love to be with people as they start on their journey with energy healing and share experiences with others who are well on their path.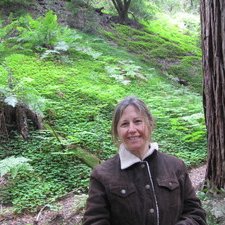 Sydney is licensed to practice Chinese Medicine by the State of California. She is a graduate of The San Francisco College of Acupuncture and Oriental Medicine, 1984. There she was introduced to a rich array of traditions. She has taken advantage of opportunities to study with many of the great practitioners and educators in the field of Asian medicine.
In 1999, she completed a three-year postgraduate program in Five Element Acupuncture with master acupuncturist Khosrow Khalighi, and was fortunate to be able to study with Professor J.R. Worsley, the creator of this particular form of treatment.
Sydney earned her certificate in Applied Clinical Nutrition in 2015.
A big sister and mother of two, she has a natural rapport with children and youth.